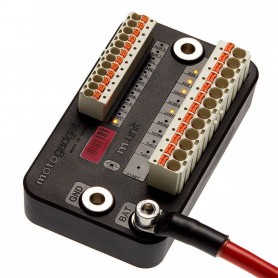 <p><span style="font-size: 15px;">Le m.unit basic est l'unité de commande numérique pour une moto, le&nbsp;</span>cœur<span style="font-size: 15px;">&nbsp;de l'ensemble du système électrique du véhicule.</span><br style="font-size: 15px;" /> <span style="font-size: 15px;">Il peut être utilisé avec des raccords à bouton-poussoir ou avec des raccords de guidon traditionnels.</span><br style="font-size: 15px;" /> <span style="font-size: 15px;">Il commute tous les composants nécessaires sur le véhicule et en même temps il assume les tâches des fusibles électriques.&nbsp;</span><br /> <br /> Les relais et les composants individuels du faisceau de câblage sont considérablement réduits et un nouveau câblage réduit du véhicule peut être réalisé rapidement.<br /> Lors de l 'utilisation du -button&nbsp;(Référence: 4002032), les connexions du commutateur sont réduites à un seul câble.&nbsp;</p>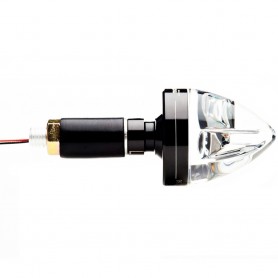 <p>Tous les clignotants Motogadget sont homologu</p>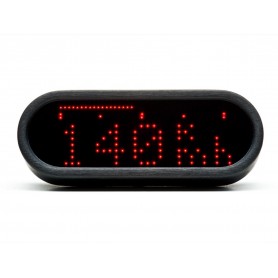 <p><span style="font-size:15px;">L'</span>écran<span style="font-size:15px;"> est </span>composé<span style="font-size:15px;"> de 251 </span>LEDS<span style="font-size:15px;"> rouges </span>ultra<span style="font-size:15px;"> lumineuses qui permettent une lecture optimale quelle que soit la </span>luminosité<span style="font-size:15px;">, le tout dans un </span>boîtier<span style="font-size:15px;"> en aluminium </span>taillé<span style="font-size:15px;"> dans la masse </span>très<span style="font-size:15px;"> compact de seulement </span>59mm<span style="font-size:15px;"> de long, 21,5mm de haut et </span>13mm<span style="font-size:15px;"> de profondeur.</span><br style="font-size:15px;" /><br style="font-size:15px;" /><span style="font-size:15px;">Il est </span>livré<span style="font-size:15px;"> avec son capteur de vitesse (</span>M5x25mm<span style="font-size:15px;"> seulement) et 1,5m de </span>câble<span style="font-size:15px;">, un petit </span>contacteur<span style="font-size:15px;"> (</span>push<span style="font-size:15px;"> </span>button<span style="font-size:15px;">) pour changer les modes de visualisation du compteur, et la </span>visserie<span style="font-size:15px;"> </span>nécessaire<span style="font-size:15px;"> pour fixer le compteur sur un support. </span><br style="font-size:15px;" /><br style="font-size:15px;" /> Régime<span style="font-size:15px;"> moteur di</span><span style="font-size:15px;">gital (barre graphique) 0 - 6 / 8 / 10 000 tr/min</span><br style="font-size:15px;" /> Régime<span style="font-size:15px;"> moteur analogique (</span>numérique<span style="font-size:15px;">) 0 - 20 000 tr/min</span><br style="font-size:15px;" /><span style="font-size:15px;">Vitesse (via le signal d'origine ou le capteur fourni) 0 - 999 Km/h ou mp/h</span><br style="font-size:15px;" /> Shiftlight<span style="font-size:15px;"> </span>paramétrable<span style="font-size:15px;"> de 0 à 20 000 tr/min</span><br style="font-size:15px;" /><span style="font-size:15px;">Distance partielle (journalier) 0 - 999,99 km</span><br style="font-size:15px;" /><span style="font-size:15px;">Distance totale 99 999 km</span><br style="font-size:15px;" /><span style="font-size:15px;">Temps de voyage 0 - 99:59 h / min</span><br style="font-size:15px;" /><span style="font-size:15px;">Dimensions et poids 59 x 21,5 x 13 mm - poids 32g</span></p>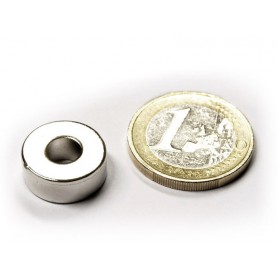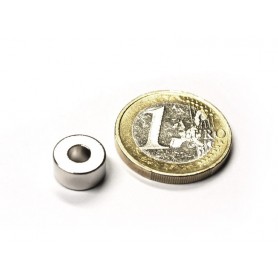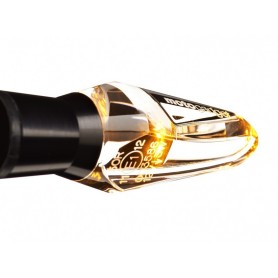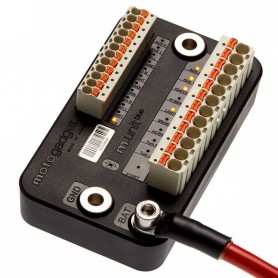 <p>The new m.unit blue and m.ride App<br /> Product&nbsp; / March 2017<br /> <br /> <br /> <iframe frameborder="0" height="473" src="https://www.youtube.com/embed/7z6-dakf2JI" width="600"></iframe></p> <p>This feature is truly unique for motorbike accessories. The m.ride App manages the entire setup and alarm system. Fault diagnostics can also be performed during operation and without having to remove the m.unit.<br /> <br /> The secure, encrypted Keyless Go function can also be used. When this function is activated, you only have to approach your motorbike with your smartphone to have it ready to start.</p> <p>&nbsp;</p> <p>Further information on the App can be found here: <a href="http://www.mride.de">www.mride.de</a></p> <p>&nbsp;</p> <p>&nbsp;</p> <p>&nbsp;</p> <p>&nbsp;</p>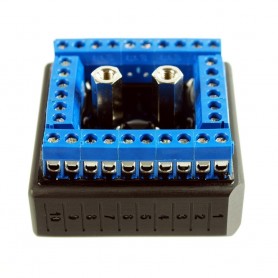 <p class="MsoNormal" style="margin-bottom:12pt;line-height:12pt;"><span style="font-size:10.5pt;font-family:Arial, sans-serif;color:#464749;">Tous les clignotants Motogadget sont homologués E1 (norme Européenne) et permettent une utilisation légale en embout de guidon. Les clignotants M-BLAZE DISC utilisent une technologie brevetée appelée Tranzlight qui permet au corps complet de se comporter comme la source lumineuse elle-même. Cette technologie permet d'avoir un éclairage extrêmement performant et très visible quelles que soient les conditions. La lumière diffusée par le clignotant étant visible à 180°, devant comme derrière. Ils sont à la fois très discrets en permettant une finition optimale du guidon, et à la fois très visibles lorsqu'ils sont sous tension. </span><span style="font-family:Times, serif;color:#000000;"></span></p> <p></p> <p class="MsoNormal" style="margin-bottom:12pt;line-height:12pt;"><span style="font-size:10.5pt;font-family:Arial, sans-serif;color:#464749;">La miniaturisation du système de contrôle et un développement par CAO ont permis de minimiser au maximum le corps en aluminium. Celui-ci, très compact, est disponible en finition anodisée noire ou en finition aluminium poli, et contient le système de gestion électronique ainsi que les LEDs haute luminosité. Un marquage laser subtil souligne le design exceptionnel de ces clignotants indiquant en outre leur homologation E1. </span><span style="font-family:Times, serif;color:#000000;"></span></p> <p></p> <p class="MsoNormal" style="margin-bottom:12pt;line-height:12pt;"><span style="font-size:10.5pt;font-family:Arial, sans-serif;color:#464749;">Ils sont prévus pour être montés sur des guidons standards de 22 mm ou 25,4 mm avec un diamètre intérieur de 14 à 21 mm. Le diamètre du corps est de 35 mm.</span></p> <p></p> <p><!-- [if gte mso 9]><xml> <o:OfficeDocumentSettings> <o:AllowPNG/> <o:PixelsPerInch>96</o:PixelsPerInch> </o:OfficeDocumentSettings> </xml><![endif]--> <!-- [if gte mso 9]><xml> <w:WordDocument> <w:View>Normal</w:View> <w:Zoom>0</w:Zoom> <w:TrackMoves/> <w:TrackFormatting/> <w:HyphenationZone>21</w:HyphenationZone> <w:PunctuationKerning/> <w:ValidateAgainstSchemas/> <w:SaveIfXMLInvalid>false</w:SaveIfXMLInvalid> <w:IgnoreMixedContent>false</w:IgnoreMixedContent> <w:AlwaysShowPlaceholderText>false</w:AlwaysShowPlaceholderText> <w:DoNotPromoteQF/> <w:LidThemeOther>FR</w:LidThemeOther> <w:LidThemeAsian>X-NONE</w:LidThemeAsian> <w:LidThemeComplexScript>X-NONE</w:LidThemeComplexScript> <w:Compatibility> <w:BreakWrappedTables/> <w:SnapToGridInCell/> <w:WrapTextWithPunct/> <w:UseAsianBreakRules/> <w:DontGrowAutofit/> <w:SplitPgBreakAndParaMark/> <w:EnableOpenTypeKerning/> <w:DontFlipMirrorIndents/> <w:OverrideTableStyleHps/> </w:Compatibility> <m:mathPr> <m:mathFont m:val="Cambria Math"/> <m:brkBin m:val="before"/> <m:brkBinSub m:val="-"/> <m:smallFrac m:val="off"/> <m:dispDef/> <m:lMargin m:val="0"/> <m:rMargin m:val="0"/> <m:defJc m:val="centerGroup"/> <m:wrapIndent m:val="1440"/> <m:intLim m:val="subSup"/> <m:naryLim m:val="undOvr"/> </m:mathPr></w:WordDocument> </xml><![endif]--><!-- [if gte mso 9]><xml> <w:LatentStyles DefLockedState="false" DefUnhideWhenUsed="false" DefSemiHidden="false" DefQFormat="false" DefPriority="99" LatentStyleCount="382"> <w:LsdException Locked="false" Priority="0" QFormat="true" Name="Normal"/> <w:LsdException Locked="false" Priority="9" QFormat="true" Name="heading 1"/> <w:LsdException Locked="false" Priority="9" SemiHidden="true" UnhideWhenUsed="true" QFormat="true" Name="heading 2"/> <w:LsdException Locked="false" Priority="9" SemiHidden="true" UnhideWhenUsed="true" QFormat="true" Name="heading 3"/> <w:LsdException Locked="false" Priority="9" SemiHidden="true" UnhideWhenUsed="true" QFormat="true" Name="heading 4"/> <w:LsdException Locked="false" Priority="9" SemiHidden="true" UnhideWhenUsed="true" QFormat="true" Name="heading 5"/> <w:LsdException Locked="false" Priority="9" SemiHidden="true" UnhideWhenUsed="true" QFormat="true" Name="heading 6"/> <w:LsdException Locked="false" Priority="9" SemiHidden="true" UnhideWhenUsed="true" QFormat="true" Name="heading 7"/> <w:LsdException Locked="false" Priority="9" SemiHidden="true" UnhideWhenUsed="true" QFormat="true" Name="heading 8"/> <w:LsdException Locked="false" Priority="9" SemiHidden="true" UnhideWhenUsed="true" QFormat="true" Name="heading 9"/> <w:LsdException Locked="false" SemiHidden="true" UnhideWhenUsed="true" Name="index 1"/> <w:LsdException Locked="false" SemiHidden="true" UnhideWhenUsed="true" Name="index 2"/> <w:LsdException Locked="false" SemiHidden="true" UnhideWhenUsed="true" Name="index 3"/> <w:LsdException Locked="false" SemiHidden="true" UnhideWhenUsed="true" Name="index 4"/> <w:LsdException Locked="false" SemiHidden="true" UnhideWhenUsed="true" Name="index 5"/> <w:LsdException Locked="false" SemiHidden="true" UnhideWhenUsed="true" Name="index 6"/> <w:LsdException Locked="false" SemiHidden="true" UnhideWhenUsed="true" Name="index 7"/> <w:LsdException Locked="false" SemiHidden="true" UnhideWhenUsed="true" Name="index 8"/> <w:LsdException Locked="false" SemiHidden="true" UnhideWhenUsed="true" Name="index 9"/> <w:LsdException Locked="false" Priority="39" SemiHidden="true" UnhideWhenUsed="true" Name="toc 1"/> <w:LsdException Locked="false" Priority="39" SemiHidden="true" UnhideWhenUsed="true" Name="toc 2"/> <w:LsdException Locked="false" Priority="39" SemiHidden="true" UnhideWhenUsed="true" Name="toc 3"/> <w:LsdException Locked="false" Priority="39" SemiHidden="true" UnhideWhenUsed="true" Name="toc 4"/> <w:LsdException Locked="false" Priority="39" SemiHidden="true" UnhideWhenUsed="true" Name="toc 5"/> <w:LsdException Locked="false" Priority="39" SemiHidden="true" UnhideWhenUsed="true" Name="toc 6"/> <w:LsdException Locked="false" Priority="39" SemiHidden="true" UnhideWhenUsed="true" Name="toc 7"/> <w:LsdException Locked="false" Priority="39" SemiHidden="true" UnhideWhenUsed="true" Name="toc 8"/> <w:LsdException Locked="false" Priority="39" SemiHidden="true" UnhideWhenUsed="true" Name="toc 9"/> <w:LsdException Locked="false" SemiHidden="true" UnhideWhenUsed="true" Name="Normal Indent"/> <w:LsdException Locked="false" SemiHidden="true" UnhideWhenUsed="true" Name="footnote text"/> <w:LsdException Locked="false" SemiHidden="true" UnhideWhenUsed="true" Name="annotation text"/> <w:LsdException Locked="false" SemiHidden="true" UnhideWhenUsed="true" Name="header"/> <w:LsdException Locked="false" SemiHidden="true" UnhideWhenUsed="true" Name="footer"/> <w:LsdException Locked="false" SemiHidden="true" UnhideWhenUsed="true" Name="index heading"/> <w:LsdException Locked="false" Priority="35" SemiHidden="true" UnhideWhenUsed="true" QFormat="true" Name="caption"/> <w:LsdException Locked="false" SemiHidden="true" UnhideWhenUsed="true" Name="table of figures"/> <w:LsdException Locked="false" SemiHidden="true" UnhideWhenUsed="true" Name="envelope address"/> <w:LsdException Locked="false" SemiHidden="true" UnhideWhenUsed="true" Name="envelope return"/> <w:LsdException Locked="false" SemiHidden="true" UnhideWhenUsed="true" Name="footnote reference"/> <w:LsdException Locked="false" SemiHidden="true" UnhideWhenUsed="true" Name="annotation reference"/> <w:LsdException Locked="false" SemiHidden="true" UnhideWhenUsed="true" Name="line number"/> <w:LsdException Locked="false" SemiHidden="true" UnhideWhenUsed="true" Name="page number"/> <w:LsdException Locked="false" SemiHidden="true" UnhideWhenUsed="true" Name="endnote reference"/> <w:LsdException Locked="false" SemiHidden="true" UnhideWhenUsed="true" Name="endnote text"/> <w:LsdException Locked="false" SemiHidden="true" UnhideWhenUsed="true" Name="table of authorities"/> <w:LsdException Locked="false" SemiHidden="true" UnhideWhenUsed="true" Name="macro"/> <w:LsdException Locked="false" SemiHidden="true" UnhideWhenUsed="true" Name="toa heading"/> <w:LsdException Locked="false" SemiHidden="true" UnhideWhenUsed="true" Name="List"/> <w:LsdException Locked="false" SemiHidden="true" UnhideWhenUsed="true" Name="List Bullet"/> <w:LsdException Locked="false" SemiHidden="true" UnhideWhenUsed="true" Name="List Number"/> <w:LsdException Locked="false" SemiHidden="true" UnhideWhenUsed="true" Name="List 2"/> <w:LsdException Locked="false" SemiHidden="true" UnhideWhenUsed="true" Name="List 3"/> <w:LsdException Locked="false" SemiHidden="true" UnhideWhenUsed="true" Name="List 4"/> <w:LsdException Locked="false" SemiHidden="true" UnhideWhenUsed="true" Name="List 5"/> <w:LsdException Locked="false" SemiHidden="true" UnhideWhenUsed="true" Name="List Bullet 2"/> <w:LsdException Locked="false" SemiHidden="true" UnhideWhenUsed="true" Name="List Bullet 3"/> <w:LsdException Locked="false" SemiHidden="true" UnhideWhenUsed="true" Name="List Bullet 4"/> <w:LsdException Locked="false" SemiHidden="true" UnhideWhenUsed="true" Name="List Bullet 5"/> <w:LsdException Locked="false" SemiHidden="true" UnhideWhenUsed="true" Name="List Number 2"/> <w:LsdException Locked="false" SemiHidden="true" UnhideWhenUsed="true" Name="List Number 3"/> <w:LsdException Locked="false" SemiHidden="true" UnhideWhenUsed="true" Name="List Number 4"/> <w:LsdException Locked="false" SemiHidden="true" UnhideWhenUsed="true" Name="List Number 5"/> <w:LsdException Locked="false" Priority="10" QFormat="true" Name="Title"/> <w:LsdException Locked="false" SemiHidden="true" UnhideWhenUsed="true" Name="Closing"/> <w:LsdException Locked="false" SemiHidden="true" UnhideWhenUsed="true" Name="Signature"/> <w:LsdException Locked="false" Priority="1" SemiHidden="true" UnhideWhenUsed="true" Name="Default Paragraph Font"/> <w:LsdException Locked="false" SemiHidden="true" UnhideWhenUsed="true" Name="Body Text"/> <w:LsdException Locked="false" SemiHidden="true" UnhideWhenUsed="true" Name="Body Text Indent"/> <w:LsdException Locked="false" SemiHidden="true" UnhideWhenUsed="true" Name="List Continue"/> <w:LsdException Locked="false" SemiHidden="true" UnhideWhenUsed="true" Name="List Continue 2"/> <w:LsdException Locked="false" SemiHidden="true" UnhideWhenUsed="true" Name="List Continue 3"/> <w:LsdException Locked="false" SemiHidden="true" UnhideWhenUsed="true" Name="List Continue 4"/> <w:LsdException Locked="false" SemiHidden="true" UnhideWhenUsed="true" Name="List Continue 5"/> <w:LsdException Locked="false" SemiHidden="true" UnhideWhenUsed="true" Name="Message Header"/> <w:LsdException Locked="false" Priority="11" QFormat="true" Name="Subtitle"/> <w:LsdException Locked="false" SemiHidden="true" UnhideWhenUsed="true" Name="Salutation"/> <w:LsdException Locked="false" SemiHidden="true" UnhideWhenUsed="true" Name="Date"/> <w:LsdException Locked="false" SemiHidden="true" UnhideWhenUsed="true" Name="Body Text First Indent"/> <w:LsdException Locked="false" SemiHidden="true" UnhideWhenUsed="true" Name="Body Text First Indent 2"/> <w:LsdException Locked="false" SemiHidden="true" UnhideWhenUsed="true" Name="Note Heading"/> <w:LsdException Locked="false" SemiHidden="true" UnhideWhenUsed="true" Name="Body Text 2"/> <w:LsdException Locked="false" SemiHidden="true" UnhideWhenUsed="true" Name="Body Text 3"/> <w:LsdException Locked="false" SemiHidden="true" UnhideWhenUsed="true" Name="Body Text Indent 2"/> <w:LsdException Locked="false" SemiHidden="true" UnhideWhenUsed="true" Name="Body Text Indent 3"/> <w:LsdException Locked="false" SemiHidden="true" UnhideWhenUsed="true" Name="Block Text"/> <w:LsdException Locked="false" SemiHidden="true" UnhideWhenUsed="true" Name="Hyperlink"/> <w:LsdException Locked="false" SemiHidden="true" UnhideWhenUsed="true" Name="FollowedHyperlink"/> <w:LsdException Locked="false" Priority="22" QFormat="true" Name="Strong"/> <w:LsdException Locked="false" Priority="20" QFormat="true" Name="Emphasis"/> <w:LsdException Locked="false" SemiHidden="true" UnhideWhenUsed="true" Name="Document Map"/> <w:LsdException Locked="false" SemiHidden="true" UnhideWhenUsed="true" Name="Plain Text"/> <w:LsdException Locked="false" SemiHidden="true" UnhideWhenUsed="true" Name="E-mail Signature"/> <w:LsdException Locked="false" SemiHidden="true" UnhideWhenUsed="true" Name="HTML Top of Form"/> <w:LsdException Locked="false" SemiHidden="true" UnhideWhenUsed="true" Name="HTML Bottom of Form"/> <w:LsdException Locked="false" SemiHidden="true" UnhideWhenUsed="true" Name="Normal (Web)"/> <w:LsdException Locked="false" SemiHidden="true" UnhideWhenUsed="true" Name="HTML Acronym"/> <w:LsdException Locked="false" SemiHidden="true" UnhideWhenUsed="true" Name="HTML Address"/> <w:LsdException Locked="false" SemiHidden="true" UnhideWhenUsed="true" Name="HTML Cite"/> <w:LsdException Locked="false" SemiHidden="true" UnhideWhenUsed="true" Name="HTML Code"/> <w:LsdException Locked="false" SemiHidden="true" UnhideWhenUsed="true" Name="HTML Definition"/> <w:LsdException Locked="false" SemiHidden="true" UnhideWhenUsed="true" Name="HTML Keyboard"/> <w:LsdException Locked="false" SemiHidden="true" UnhideWhenUsed="true" Name="HTML Preformatted"/> <w:LsdException Locked="false" SemiHidden="true" UnhideWhenUsed="true" Name="HTML Sample"/> <w:LsdException Locked="false" SemiHidden="true" UnhideWhenUsed="true" Name="HTML Typewriter"/> <w:LsdException Locked="false" SemiHidden="true" UnhideWhenUsed="true" Name="HTML Variable"/> <w:LsdException Locked="false" SemiHidden="true" UnhideWhenUsed="true" Name="Normal Table"/> <w:LsdException Locked="false" SemiHidden="true" UnhideWhenUsed="true" Name="annotation subject"/> <w:LsdException Locked="false" SemiHidden="true" UnhideWhenUsed="true" Name="No List"/> <w:LsdException Locked="false" SemiHidden="true" UnhideWhenUsed="true" Name="Outline List 1"/> <w:LsdException Locked="false" SemiHidden="true" UnhideWhenUsed="true" Name="Outline List 2"/> <w:LsdException Locked="false" SemiHidden="true" UnhideWhenUsed="true" Name="Outline List 3"/> <w:LsdException Locked="false" SemiHidden="true" UnhideWhenUsed="true" Name="Table Simple 1"/> <w:LsdException Locked="false" SemiHidden="true" UnhideWhenUsed="true" Name="Table Simple 2"/> <w:LsdException Locked="false" SemiHidden="true" UnhideWhenUsed="true" Name="Table Simple 3"/> <w:LsdException Locked="false" SemiHidden="true" UnhideWhenUsed="true" Name="Table Classic 1"/> <w:LsdException Locked="false" SemiHidden="true" UnhideWhenUsed="true" Name="Table Classic 2"/> <w:LsdException Locked="false" SemiHidden="true" UnhideWhenUsed="true" Name="Table Classic 3"/> <w:LsdException Locked="false" SemiHidden="true" UnhideWhenUsed="true" Name="Table Classic 4"/> <w:LsdException Locked="false" SemiHidden="true" UnhideWhenUsed="true" Name="Table Colorful 1"/> <w:LsdException Locked="false" SemiHidden="true" UnhideWhenUsed="true" Name="Table Colorful 2"/> <w:LsdException Locked="false" SemiHidden="true" UnhideWhenUsed="true" Name="Table Colorful 3"/> <w:LsdException Locked="false" SemiHidden="true" UnhideWhenUsed="true" Name="Table Columns 1"/> <w:LsdException Locked="false" SemiHidden="true" UnhideWhenUsed="true" Name="Table Columns 2"/> <w:LsdException Locked="false" SemiHidden="true" UnhideWhenUsed="true" Name="Table Columns 3"/> <w:LsdException Locked="false" SemiHidden="true" UnhideWhenUsed="true" Name="Table Columns 4"/> <w:LsdException Locked="false" SemiHidden="true" UnhideWhenUsed="true" Name="Table Columns 5"/> <w:LsdException Locked="false" SemiHidden="true" UnhideWhenUsed="true" Name="Table Grid 1"/> <w:LsdException Locked="false" SemiHidden="true" UnhideWhenUsed="true" Name="Table Grid 2"/> <w:LsdException Locked="false" SemiHidden="true" UnhideWhenUsed="true" Name="Table Grid 3"/> <w:LsdException Locked="false" SemiHidden="true" UnhideWhenUsed="true" Name="Table Grid 4"/> <w:LsdException Locked="false" SemiHidden="true" UnhideWhenUsed="true" Name="Table Grid 5"/> <w:LsdException Locked="false" SemiHidden="true" UnhideWhenUsed="true" Name="Table Grid 6"/> <w:LsdException Locked="false" SemiHidden="true" UnhideWhenUsed="true" Name="Table Grid 7"/> <w:LsdException Locked="false" SemiHidden="true" UnhideWhenUsed="true" Name="Table Grid 8"/> <w:LsdException Locked="false" SemiHidden="true" UnhideWhenUsed="true" Name="Table List 1"/> <w:LsdException Locked="false" SemiHidden="true" UnhideWhenUsed="true" Name="Table List 2"/> <w:LsdException Locked="false" SemiHidden="true" UnhideWhenUsed="true" Name="Table List 3"/> <w:LsdException Locked="false" SemiHidden="true" UnhideWhenUsed="true" Name="Table List 4"/> <w:LsdException Locked="false" SemiHidden="true" UnhideWhenUsed="true" Name="Table List 5"/> <w:LsdException Locked="false" SemiHidden="true" UnhideWhenUsed="true" Name="Table List 6"/> <w:LsdException Locked="false" SemiHidden="true" UnhideWhenUsed="true" Name="Table List 7"/> <w:LsdException Locked="false" SemiHidden="true" UnhideWhenUsed="true" Name="Table List 8"/> <w:LsdException Locked="false" SemiHidden="true" UnhideWhenUsed="true" Name="Table 3D effects 1"/> <w:LsdException Locked="false" SemiHidden="true" UnhideWhenUsed="true" Name="Table 3D effects 2"/> <w:LsdException Locked="false" SemiHidden="true" UnhideWhenUsed="true" Name="Table 3D effects 3"/> <w:LsdException Locked="false" SemiHidden="true" UnhideWhenUsed="true" Name="Table Contemporary"/> <w:LsdException Locked="false" SemiHidden="true" UnhideWhenUsed="true" Name="Table Elegant"/> <w:LsdException Locked="false" SemiHidden="true" UnhideWhenUsed="true" Name="Table Professional"/> <w:LsdException Locked="false" SemiHidden="true" UnhideWhenUsed="true" Name="Table Subtle 1"/> <w:LsdException Locked="false" SemiHidden="true" UnhideWhenUsed="true" Name="Table Subtle 2"/> <w:LsdException Locked="false" SemiHidden="true" UnhideWhenUsed="true" Name="Table Web 1"/> <w:LsdException Locked="false" SemiHidden="true" UnhideWhenUsed="true" Name="Table Web 2"/> <w:LsdException Locked="false" SemiHidden="true" UnhideWhenUsed="true" Name="Table Web 3"/> <w:LsdException Locked="false" SemiHidden="true" UnhideWhenUsed="true" Name="Balloon Text"/> <w:LsdException Locked="false" Priority="39" Name="Table Grid"/> <w:LsdException Locked="false" SemiHidden="true" UnhideWhenUsed="true" Name="Table Theme"/> <w:LsdException Locked="false" SemiHidden="true" UnhideWhenUsed="true" Name="Note Level 1"/> <w:LsdException Locked="false" SemiHidden="true" UnhideWhenUsed="true" Name="Note Level 2"/> <w:LsdException Locked="false" SemiHidden="true" UnhideWhenUsed="true" Name="Note Level 3"/> <w:LsdException Locked="false" SemiHidden="true" UnhideWhenUsed="true" Name="Note Level 4"/> <w:LsdException Locked="false" SemiHidden="true" UnhideWhenUsed="true" Name="Note Level 5"/> <w:LsdException Locked="false" SemiHidden="true" UnhideWhenUsed="true" Name="Note Level 6"/> <w:LsdException Locked="false" SemiHidden="true" UnhideWhenUsed="true" Name="Note Level 7"/> <w:LsdException Locked="false" SemiHidden="true" UnhideWhenUsed="true" Name="Note Level 8"/> <w:LsdException Locked="false" SemiHidden="true" UnhideWhenUsed="true" Name="Note Level 9"/> <w:LsdException Locked="false" SemiHidden="true" Name="Placeholder Text"/> <w:LsdException Locked="false" Priority="1" QFormat="true" Name="No Spacing"/> <w:LsdException Locked="false" Priority="60" Name="Light Shading"/> <w:LsdException Locked="false" Priority="61" Name="Light List"/> <w:LsdException Locked="false" Priority="62" Name="Light Grid"/> <w:LsdException Locked="false" Priority="63" Name="Medium Shading 1"/> <w:LsdException Locked="false" Priority="64" Name="Medium Shading 2"/> <w:LsdException Locked="false" Priority="65" Name="Medium List 1"/> <w:LsdException Locked="false" Priority="66" Name="Medium List 2"/> <w:LsdException Locked="false" Priority="67" Name="Medium Grid 1"/> <w:LsdException Locked="false" Priority="68" Name="Medium Grid 2"/> <w:LsdException Locked="false" Priority="69" Name="Medium Grid 3"/> <w:LsdException Locked="false" Priority="70" Name="Dark List"/> <w:LsdException Locked="false" Priority="71" Name="Colorful Shading"/> <w:LsdException Locked="false" Priority="72" Name="Colorful List"/> <w:LsdException Locked="false" Priority="73" Name="Colorful Grid"/> <w:LsdException Locked="false" Priority="60" Name="Light Shading Accent 1"/> <w:LsdException Locked="false" Priority="61" Name="Light List Accent 1"/> <w:LsdException Locked="false" Priority="62" Name="Light Grid Accent 1"/> <w:LsdException Locked="false" Priority="63" Name="Medium Shading 1 Accent 1"/> <w:LsdException Locked="false" Priority="64" Name="Medium Shading 2 Accent 1"/> <w:LsdException Locked="false" Priority="65" Name="Medium List 1 Accent 1"/> <w:LsdException Locked="false" SemiHidden="true" Name="Revision"/> <w:LsdException Locked="false" Priority="34" QFormat="true" Name="List Paragraph"/> <w:LsdException Locked="false" Priority="29" QFormat="true" Name="Quote"/> <w:LsdException Locked="false" Priority="30" QFormat="true" Name="Intense Quote"/> <w:LsdException Locked="false" Priority="66" Name="Medium List 2 Accent 1"/> <w:LsdException Locked="false" Priority="67" Name="Medium Grid 1 Accent 1"/> <w:LsdException Locked="false" Priority="68" Name="Medium Grid 2 Accent 1"/> <w:LsdException Locked="false" Priority="69" Name="Medium Grid 3 Accent 1"/> <w:LsdException Locked="false" Priority="70" Name="Dark List Accent 1"/> <w:LsdException Locked="false" Priority="71" Name="Colorful Shading Accent 1"/> <w:LsdException Locked="false" Priority="72" Name="Colorful List Accent 1"/> <w:LsdException Locked="false" Priority="73" Name="Colorful Grid Accent 1"/> <w:LsdException Locked="false" Priority="60" Name="Light Shading Accent 2"/> <w:LsdException Locked="false" Priority="61" Name="Light List Accent 2"/> <w:LsdException Locked="false" Priority="62" Name="Light Grid Accent 2"/> <w:LsdException Locked="false" Priority="63" Name="Medium Shading 1 Accent 2"/> <w:LsdException Locked="false" Priority="64" Name="Medium Shading 2 Accent 2"/> <w:LsdException Locked="false" Priority="65" Name="Medium List 1 Accent 2"/> <w:LsdException Locked="false" Priority="66" Name="Medium List 2 Accent 2"/> <w:LsdException Locked="false" Priority="67" Name="Medium Grid 1 Accent 2"/> <w:LsdException Locked="false" Priority="68" Name="Medium Grid 2 Accent 2"/> <w:LsdException Locked="false" Priority="69" Name="Medium Grid 3 Accent 2"/> <w:LsdException Locked="false" Priority="70" Name="Dark List Accent 2"/> <w:LsdException Locked="false" Priority="71" Name="Colorful Shading Accent 2"/> <w:LsdException Locked="false" Priority="72" Name="Colorful List Accent 2"/> <w:LsdException Locked="false" Priority="73" Name="Colorful Grid Accent 2"/> <w:LsdException Locked="false" Priority="60" Name="Light Shading Accent 3"/> <w:LsdException Locked="false" Priority="61" Name="Light List Accent 3"/> <w:LsdException Locked="false" Priority="62" Name="Light Grid Accent 3"/> <w:LsdException Locked="false" Priority="63" Name="Medium Shading 1 Accent 3"/> <w:LsdException Locked="false" Priority="64" Name="Medium Shading 2 Accent 3"/> <w:LsdException Locked="false" Priority="65" Name="Medium List 1 Accent 3"/> <w:LsdException Locked="false" Priority="66" Name="Medium List 2 Accent 3"/> <w:LsdException Locked="false" Priority="67" Name="Medium Grid 1 Accent 3"/> <w:LsdException Locked="false" Priority="68" Name="Medium Grid 2 Accent 3"/> <w:LsdException Locked="false" Priority="69" Name="Medium Grid 3 Accent 3"/> <w:LsdException Locked="false" Priority="70" Name="Dark List Accent 3"/> <w:LsdException Locked="false" Priority="71" Name="Colorful Shading Accent 3"/> <w:LsdException Locked="false" Priority="72" Name="Colorful List Accent 3"/> <w:LsdException Locked="false" Priority="73" Name="Colorful Grid Accent 3"/> <w:LsdException Locked="false" Priority="60" Name="Light Shading Accent 4"/> <w:LsdException Locked="false" Priority="61" Name="Light List Accent 4"/> <w:LsdException Locked="false" Priority="62" Name="Light Grid Accent 4"/> <w:LsdException Locked="false" Priority="63" Name="Medium Shading 1 Accent 4"/> <w:LsdException Locked="false" Priority="64" Name="Medium Shading 2 Accent 4"/> <w:LsdException Locked="false" Priority="65" Name="Medium List 1 Accent 4"/> <w:LsdException Locked="false" Priority="66" Name="Medium List 2 Accent 4"/> <w:LsdException Locked="false" Priority="67" Name="Medium Grid 1 Accent 4"/> <w:LsdException Locked="false" Priority="68" Name="Medium Grid 2 Accent 4"/> <w:LsdException Locked="false" Priority="69" Name="Medium Grid 3 Accent 4"/> <w:LsdException Locked="false" Priority="70" Name="Dark List Accent 4"/> <w:LsdException Locked="false" Priority="71" Name="Colorful Shading Accent 4"/> <w:LsdException Locked="false" Priority="72" Name="Colorful List Accent 4"/> <w:LsdException Locked="false" Priority="73" Name="Colorful Grid Accent 4"/> <w:LsdException Locked="false" Priority="60" Name="Light Shading Accent 5"/> <w:LsdException Locked="false" Priority="61" Name="Light List Accent 5"/> <w:LsdException Locked="false" Priority="62" Name="Light Grid Accent 5"/> <w:LsdException Locked="false" Priority="63" Name="Medium Shading 1 Accent 5"/> <w:LsdException Locked="false" Priority="64" Name="Medium Shading 2 Accent 5"/> <w:LsdException Locked="false" Priority="65" Name="Medium List 1 Accent 5"/> <w:LsdException Locked="false" Priority="66" Name="Medium List 2 Accent 5"/> <w:LsdException Locked="false" Priority="67" Name="Medium Grid 1 Accent 5"/> <w:LsdException Locked="false" Priority="68" Name="Medium Grid 2 Accent 5"/> <w:LsdException Locked="false" Priority="69" Name="Medium Grid 3 Accent 5"/> <w:LsdException Locked="false" Priority="70" Name="Dark List Accent 5"/> <w:LsdException Locked="false" Priority="71" Name="Colorful Shading Accent 5"/> <w:LsdException Locked="false" Priority="72" Name="Colorful List Accent 5"/> <w:LsdException Locked="false" Priority="73" Name="Colorful Grid Accent 5"/> <w:LsdException Locked="false" Priority="60" Name="Light Shading Accent 6"/> <w:LsdException Locked="false" Priority="61" Name="Light List Accent 6"/> <w:LsdException Locked="false" Priority="62" Name="Light Grid Accent 6"/> <w:LsdException Locked="false" Priority="63" Name="Medium Shading 1 Accent 6"/> <w:LsdException Locked="false" Priority="64" Name="Medium Shading 2 Accent 6"/> <w:LsdException Locked="false" Priority="65" Name="Medium List 1 Accent 6"/> <w:LsdException Locked="false" Priority="66" Name="Medium List 2 Accent 6"/> <w:LsdException Locked="false" Priority="67" Name="Medium Grid 1 Accent 6"/> <w:LsdException Locked="false" Priority="68" Name="Medium Grid 2 Accent 6"/> <w:LsdException Locked="false" Priority="69" Name="Medium Grid 3 Accent 6"/> <w:LsdException Locked="false" Priority="70" Name="Dark List Accent 6"/> <w:LsdException Locked="false" Priority="71" Name="Colorful Shading Accent 6"/> <w:LsdException Locked="false" Priority="72" Name="Colorful List Accent 6"/> <w:LsdException Locked="false" Priority="73" Name="Colorful Grid Accent 6"/> <w:LsdException Locked="false" Priority="19" QFormat="true" Name="Subtle Emphasis"/> <w:LsdException Locked="false" Priority="21" QFormat="true" Name="Intense Emphasis"/> <w:LsdException Locked="false" Priority="31" QFormat="true" Name="Subtle Reference"/> <w:LsdException Locked="false" Priority="32" QFormat="true" Name="Intense Reference"/> <w:LsdException Locked="false" Priority="33" QFormat="true" Name="Book Title"/> <w:LsdException Locked="false" Priority="37" SemiHidden="true" UnhideWhenUsed="true" Name="Bibliography"/> <w:LsdException Locked="false" Priority="39" SemiHidden="true" UnhideWhenUsed="true" QFormat="true" Name="TOC Heading"/> <w:LsdException Locked="false" Priority="41" Name="Plain Table 1"/> <w:LsdException Locked="false" Priority="42" Name="Plain Table 2"/> <w:LsdException Locked="false" Priority="43" Name="Plain Table 3"/> <w:LsdException Locked="false" Priority="44" Name="Plain Table 4"/> <w:LsdException Locked="false" Priority="45" Name="Plain Table 5"/> <w:LsdException Locked="false" Priority="40" Name="Grid Table Light"/> <w:LsdException Locked="false" Priority="46" Name="Grid Table 1 Light"/> <w:LsdException Locked="false" Priority="47" Name="Grid Table 2"/> <w:LsdException Locked="false" Priority="48" Name="Grid Table 3"/> <w:LsdException Locked="false" Priority="49" Name="Grid Table 4"/> <w:LsdException Locked="false" Priority="50" Name="Grid Table 5 Dark"/> <w:LsdException Locked="false" Priority="51" Name="Grid Table 6 Colorful"/> <w:LsdException Locked="false" Priority="52" Name="Grid Table 7 Colorful"/> <w:LsdException Locked="false" Priority="46" Name="Grid Table 1 Light Accent 1"/> <w:LsdException Locked="false" Priority="47" Name="Grid Table 2 Accent 1"/> <w:LsdException Locked="false" Priority="48" Name="Grid Table 3 Accent 1"/> <w:LsdException Locked="false" Priority="49" Name="Grid Table 4 Accent 1"/> <w:LsdException Locked="false" Priority="50" Name="Grid Table 5 Dark Accent 1"/> <w:LsdException Locked="false" Priority="51" Name="Grid Table 6 Colorful Accent 1"/> <w:LsdException Locked="false" Priority="52" Name="Grid Table 7 Colorful Accent 1"/> <w:LsdException Locked="false" Priority="46" Name="Grid Table 1 Light Accent 2"/> <w:LsdException Locked="false" Priority="47" Name="Grid Table 2 Accent 2"/> <w:LsdException Locked="false" Priority="48" Name="Grid Table 3 Accent 2"/> <w:LsdException Locked="false" Priority="49" Name="Grid Table 4 Accent 2"/> <w:LsdException Locked="false" Priority="50" Name="Grid Table 5 Dark Accent 2"/> <w:LsdException Locked="false" Priority="51" Name="Grid Table 6 Colorful Accent 2"/> <w:LsdException Locked="false" Priority="52" Name="Grid Table 7 Colorful Accent 2"/> <w:LsdException Locked="false" Priority="46" Name="Grid Table 1 Light Accent 3"/> <w:LsdException Locked="false" Priority="47" Name="Grid Table 2 Accent 3"/> <w:LsdException Locked="false" Priority="48" Name="Grid Table 3 Accent 3"/> <w:LsdException Locked="false" Priority="49" Name="Grid Table 4 Accent 3"/> <w:LsdException Locked="false" Priority="50" Name="Grid Table 5 Dark Accent 3"/> <w:LsdException Locked="false" Priority="51" Name="Grid Table 6 Colorful Accent 3"/> <w:LsdException Locked="false" Priority="52" Name="Grid Table 7 Colorful Accent 3"/> <w:LsdException Locked="false" Priority="46" Name="Grid Table 1 Light Accent 4"/> <w:LsdException Locked="false" Priority="47" Name="Grid Table 2 Accent 4"/> <w:LsdException Locked="false" Priority="48" Name="Grid Table 3 Accent 4"/> <w:LsdException Locked="false" Priority="49" Name="Grid Table 4 Accent 4"/> <w:LsdException Locked="false" Priority="50" Name="Grid Table 5 Dark Accent 4"/> <w:LsdException Locked="false" Priority="51" Name="Grid Table 6 Colorful Accent 4"/> <w:LsdException Locked="false" Priority="52" Name="Grid Table 7 Colorful Accent 4"/> <w:LsdException Locked="false" Priority="46" Name="Grid Table 1 Light Accent 5"/> <w:LsdException Locked="false" Priority="47" Name="Grid Table 2 Accent 5"/> <w:LsdException Locked="false" Priority="48" Name="Grid Table 3 Accent 5"/> <w:LsdException Locked="false" Priority="49" Name="Grid Table 4 Accent 5"/> <w:LsdException Locked="false" Priority="50" Name="Grid Table 5 Dark Accent 5"/> <w:LsdException Locked="false" Priority="51" Name="Grid Table 6 Colorful Accent 5"/> <w:LsdException Locked="false" Priority="52" Name="Grid Table 7 Colorful Accent 5"/> <w:LsdException Locked="false" Priority="46" Name="Grid Table 1 Light Accent 6"/> <w:LsdException Locked="false" Priority="47" Name="Grid Table 2 Accent 6"/> <w:LsdException Locked="false" Priority="48" Name="Grid Table 3 Accent 6"/> <w:LsdException Locked="false" Priority="49" Name="Grid Table 4 Accent 6"/> <w:LsdException Locked="false" Priority="50" Name="Grid Table 5 Dark Accent 6"/> <w:LsdException Locked="false" Priority="51" Name="Grid Table 6 Colorful Accent 6"/> <w:LsdException Locked="false" Priority="52" Name="Grid Table 7 Colorful Accent 6"/> <w:LsdException Locked="false" Priority="46" Name="List Table 1 Light"/> <w:LsdException Locked="false" Priority="47" Name="List Table 2"/> <w:LsdException Locked="false" Priority="48" Name="List Table 3"/> <w:LsdException Locked="false" Priority="49" Name="List Table 4"/> <w:LsdException Locked="false" Priority="50" Name="List Table 5 Dark"/> <w:LsdException Locked="false" Priority="51" Name="List Table 6 Colorful"/> <w:LsdException Locked="false" Priority="52" Name="List Table 7 Colorful"/> <w:LsdException Locked="false" Priority="46" Name="List Table 1 Light Accent 1"/> <w:LsdException Locked="false" Priority="47" Name="List Table 2 Accent 1"/> <w:LsdException Locked="false" Priority="48" Name="List Table 3 Accent 1"/> <w:LsdException Locked="false" Priority="49" Name="List Table 4 Accent 1"/> <w:LsdException Locked="false" Priority="50" Name="List Table 5 Dark Accent 1"/> <w:LsdException Locked="false" Priority="51" Name="List Table 6 Colorful Accent 1"/> <w:LsdException Locked="false" Priority="52" Name="List Table 7 Colorful Accent 1"/> <w:LsdException Locked="false" Priority="46" Name="List Table 1 Light Accent 2"/> <w:LsdException Locked="false" Priority="47" Name="List Table 2 Accent 2"/> <w:LsdException Locked="false" Priority="48" Name="List Table 3 Accent 2"/> <w:LsdException Locked="false" Priority="49" Name="List Table 4 Accent 2"/> <w:LsdException Locked="false" Priority="50" Name="List Table 5 Dark Accent 2"/> <w:LsdException Locked="false" Priority="51" Name="List Table 6 Colorful Accent 2"/> <w:LsdException Locked="false" Priority="52" Name="List Table 7 Colorful Accent 2"/> <w:LsdException Locked="false" Priority="46" Name="List Table 1 Light Accent 3"/> <w:LsdException Locked="false" Priority="47" Name="List Table 2 Accent 3"/> <w:LsdException Locked="false" Priority="48" Name="List Table 3 Accent 3"/> <w:LsdException Locked="false" Priority="49" Name="List Table 4 Accent 3"/> <w:LsdException Locked="false" Priority="50" Name="List Table 5 Dark Accent 3"/> <w:LsdException Locked="false" Priority="51" Name="List Table 6 Colorful Accent 3"/> <w:LsdException Locked="false" Priority="52" Name="List Table 7 Colorful Accent 3"/> <w:LsdException Locked="false" Priority="46" Name="List Table 1 Light Accent 4"/> <w:LsdException Locked="false" Priority="47" Name="List Table 2 Accent 4"/> <w:LsdException Locked="false" Priority="48" Name="List Table 3 Accent 4"/> <w:LsdException Locked="false" Priority="49" Name="List Table 4 Accent 4"/> <w:LsdException Locked="false" Priority="50" Name="List Table 5 Dark Accent 4"/> <w:LsdException Locked="false" Priority="51" Name="List Table 6 Colorful Accent 4"/> <w:LsdException Locked="false" Priority="52" Name="List Table 7 Colorful Accent 4"/> <w:LsdException Locked="false" Priority="46" Name="List Table 1 Light Accent 5"/> <w:LsdException Locked="false" Priority="47" Name="List Table 2 Accent 5"/> <w:LsdException Locked="false" Priority="48" Name="List Table 3 Accent 5"/> <w:LsdException Locked="false" Priority="49" Name="List Table 4 Accent 5"/> <w:LsdException Locked="false" Priority="50" Name="List Table 5 Dark Accent 5"/> <w:LsdException Locked="false" Priority="51" Name="List Table 6 Colorful Accent 5"/> <w:LsdException Locked="false" Priority="52" Name="List Table 7 Colorful Accent 5"/> <w:LsdException Locked="false" Priority="46" Name="List Table 1 Light Accent 6"/> <w:LsdException Locked="false" Priority="47" Name="List Table 2 Accent 6"/> <w:LsdException Locked="false" Priority="48" Name="List Table 3 Accent 6"/> <w:LsdException Locked="false" Priority="49" Name="List Table 4 Accent 6"/> <w:LsdException Locked="false" Priority="50" Name="List Table 5 Dark Accent 6"/> <w:LsdException Locked="false" Priority="51" Name="List Table 6 Colorful Accent 6"/> <w:LsdException Locked="false" Priority="52" Name="List Table 7 Colorful Accent 6"/> <w:LsdException Locked="false" SemiHidden="true" UnhideWhenUsed="true" Name="Mention"/> <w:LsdException Locked="false" SemiHidden="true" UnhideWhenUsed="true" Name="Smart Hyperlink"/> </w:LatentStyles> </xml><![endif]--><!-- [if gte mso 10]> <style> /* Style Definitions */ table.MsoNormalTable {mso-style-name:"Tableau Normal"; mso-tstyle-rowband-size:0; mso-tstyle-colband-size:0; mso-style-noshow:yes; mso-style-priority:99; mso-style-parent:""; mso-padding-alt:0cm 5.4pt 0cm 5.4pt; mso-para-margin:0cm; mso-para-margin-bottom:.0001pt; mso-pagination:widow-orphan; font-size:12.0pt; font-family:"Calibri",sans-serif; mso-ascii-font-family:Calibri; mso-ascii-theme-font:minor-latin; mso-hansi-font-family:Calibri; mso-hansi-theme-font:minor-latin; mso-fareast-language:EN-US;} </style> <![endif]--> <!--StartFragment--> <!--EndFragment--></p> <p class="MsoNormal" style="margin-bottom:12pt;line-height:12pt;"><span style="font-size:10.5pt;font-family:Arial, sans-serif;color:#464749;"><strong>Attention bien commander un kit complet droite + gauche</strong> étant donné qu'ils sont différents. La longueur des fils d'alimentation est d'environ 1m. </span><span style="font-family:Times, serif;color:#000000;"></span></p> <p><iframe width="560" height="315" src="https://www.youtube.com/embed/LU5Pwem9ngs" frameborder="0"></iframe></p>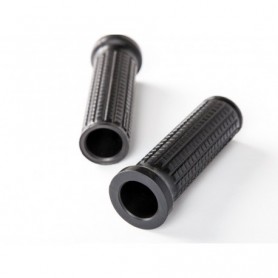 Details The new m.grip soft is a universal rubber grip for handle bars with 1 inch or 22 mm (7/8 inch) diameter in a attractive look. It's the same strong characteristic design and dimensions like our successful Aluminium billet grip m.grip. Like the billet grip the m.grip soft matches perfectly with the handle bar turn signal m.blaze disc or m.blaze cone and looks very harmonically with m.switch mini. The optional rear view mirror m.rear also integrates in this complete handle bar system. Parts delivered m.grip soft rubber grip for left side and right side (throttle).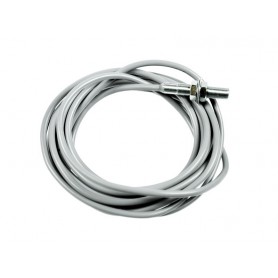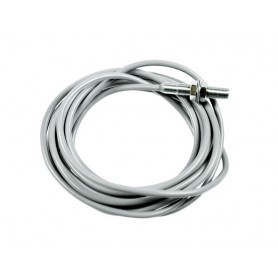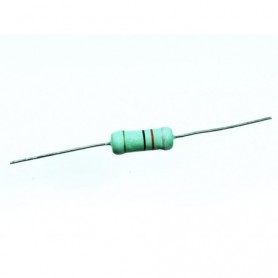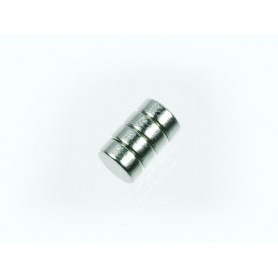 Ces 4 aimants sont des pi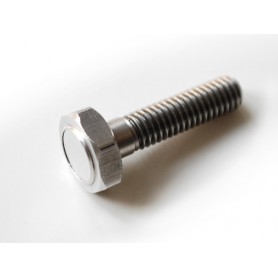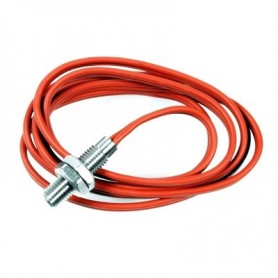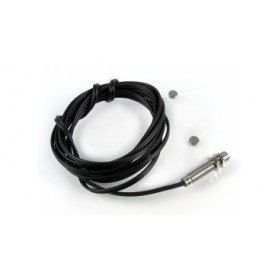 The highly compact M5 reed contact is a spare part for the included speedometer sensors. The stainless steel reed contact fits all motogadget instruments. Industrial-grade quality (IP68). Used to detect magnets on rotating parts. M5 x 0,5 fine-pitch thread, length 22 mm, incl. 2 nuts. Cable length 150 cm. 2 small high capacity neodymium magnets included.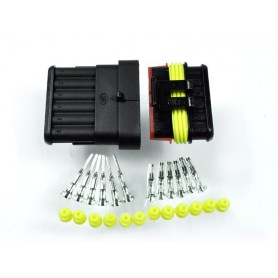 The Supersealed series 6-pin connector kit is a highly robust, water-tight plug-in connector. Parts included are male and female connector housings, matching crimp-on pins and wiring insulation.